Administrative division of the voivodship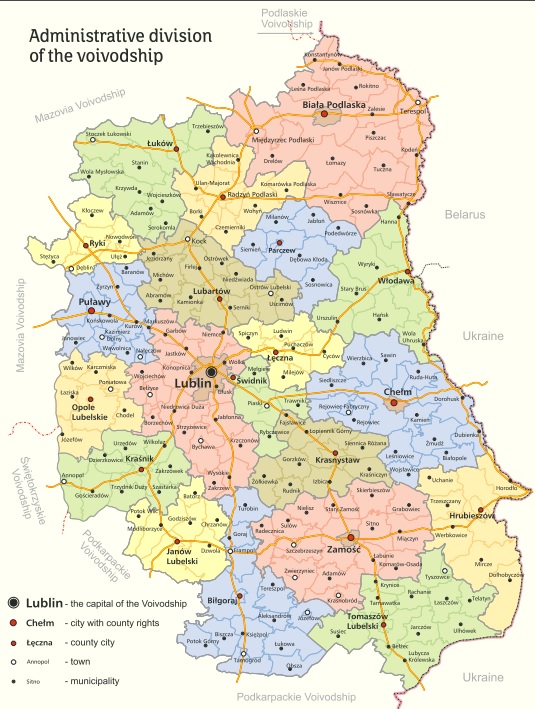 Area
Lublin Voivodship, with a total area of 25,122 sq. km, is the third voivodship in Poland by size. Situated in the south-eastern part of the country, it borders with Podlaskie and Mazowieckie Voivodships in the north, with Świętokrzyskie in the west and Podkarpackie in the south. Its eastern border with Belarus and Ukraine marks the eastern border of the European Union.
The Lublin Voivodship is divided into 213 municipalities and 20 counties, which contain 4,116 villages and 41 towns, including 4 with county rights. According to the European Union's regional statistics requirements, 3 sub regions were designated (NUTS III): Biała Podlaska, Chełm-Zamość and Lublin sub regions.
Lublin (355,998 inhabitants) is the capital of the voivodship and the biggest city in eastern Poland. It plays the role of an administrative, economic and cultural centre of the region. Its main strength is a significant academic potential and a well-developed scientific and research base. Large cities in the region include Biała Podlaska (58,047 inhabitants), Zamość (66,747 inhabitants), Chełm (68,611 inhabitants) and Puławy (49,755 inhabitants). (Data: Statistical Office in Lublin, 31 Dec 2007)
Population
By estimated calculations the population of the Lublin Voivodship amounted to 2,167,800 by the end of September 2007 and decreased by 0.3% in comparison with the corresponding month in the previous year. For every 100 men the population included 106 women. The voivodship had a relatively small population density of 86 inhabitants per 1 km2. Forty-six point six per cent of people lived in towns. The live births rate exhibited a rising tendency, increasing by 2.2% in comparison with the year 2006.
By the end of November 2007 the registered unemployment rate reached 12.7% and was 1.5% higher than the national rate. The local employment offices registered 114,900 unemployed, 53.8% of which were women. The number of unemployed decreased by 17.5% in comparison with November 2006. Among the unemployed, 55% were village inhabitants and 65.2% were people who had been employed before. People of ages 18-24 made up 23.6% of all unemployed.
Counties in the Voivodship (area and inhabitants data from 2007)
♦ Lublin – 147,5 sq. km, 355,998 inhabitants
♦ Biała Podlaska – 49,4 sq. km, 58,047 inhabitants
♦ Chełm – 35,3 sq. km, 68,611 inhabitants
♦ Zamość – 30,5 sq. km, 66,747 inhabitants
♦ Biała Podlaska County – 2753,7 sq. km, 114,449 inhabitants
♦ Biłgoraj County – 1677 sq. km, 104,648 inhabitants
♦ Chełm County – 1790,2 sq. km, 80,930 inhabitants
♦ Hrubieszów County – 1269,5 sq. km, 69,476 inhabitants
♦ Janów County – 875,3 sq. km, 48,156 inhabitants
♦ Krasnystaw County – 1031,9 sq. km, 69,747 inhabitants
♦ Kraśnik County – 1005,3 sq. km, 100,260 inhabitants
♦ Lubartów County – 1290,4 sq. km, 90,878 inhabitants
♦ Lublin County – 1679,4 sq. km, 138,964 inhabitants
♦ Łęczna County – 633,8 sq. km, 57,273 inhabitants
♦ Łuków County – 1394,1 sq. km, 108,779 inhabitants
♦ Opole County – 811,2 sq. km, 63,470 inhabitants
♦ Parczew County – 952,6 sq. km, 36,820 inhabitants
♦ Puławy County – 933,0 sq. km, 117,331 inhabitants
♦ Radzyń County – 965,2 sq. km, 61,750 inhabitants
♦ Ryki County – 615,5 sq. km, 60,085 inhabitants
♦ Świdnik County – 469,0 sq. km, 72,301 inhabitants
♦ Tomaszów County – 1487,1 sq. km, 89,441 inhabitants
♦ Włodawa County – 1256,3 sq. km, 40,534 inhabitants
♦ Zamość County – 1872,3 sq. km, 110,827 inhabitants